Frequently Asked Questions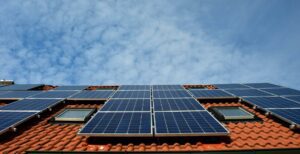 What does Green Potential do?
New York City's buildings are responsible for emitting over 70% of the city's greenhouse gasses. At Green Potential, we're on a mission to help property owners expedite building improvements in a sustainable, cost-effective way. If you're a property owner in New York City looking to lower your carbon emissions and comply with local laws, Green Potential can help you expedite necessary improvements in a data-driven and streamlined way. Unlike other service providers, Green Potential uses a reviews-based approach to find the most qualified and cost-efficient vendors for building projects. This not only expedites necessary improvements but also saves property owners money. By working with Green Potential, property owners can lower their carbon emissions, comply with local laws, and save money in the process.
How much do you charge for your services?
Our services to building owners, boards, and property managers are free; all we require is data from the building. Vendors pay an annual subscription fee to be included in our database. Depending on the subscription level, vendors receive a certain number of building leads per year as well as competitor analysis.
Which local laws in New York City might affect my building?
Since 2019, Local Law 97 mandates that all New York City buildings above 25,000 square feet comply with energy efficiency standards by 2024 or face fines which incrementally increase. Building Exchange has created a calculator that estimates the fines NYC buildings will face. For those impacted by Local Law 84 and Local Law 87, we can help you find the right consultants for that work as well.

What does a building retrofit involve?
A building retrofit involves upgrading the energy performance of a building for its ongoing life. Often a retrofit involves modifications to existing buildings that may improve energy efficiency or decrease energy demand.
How does Green Potential help property owners make building improvements?
Green Potential helps expedite the vendor bidding process so building improvements happen in the most timely and cost-effective way. For each building project, we provide proposals from qualified vendors along with their reviews from past clients. Whether you're looking for an architect, contractor, consultant, engineer, or need a bank loan, we have data points to make the right connections.
Why use Green Potential for financing when we can just go to our bank?
Green Potential reaches out to many partners on behalf of our clients. We do not limit ourselves to only working with banks; we also work with hedge funds, asset managers, and capital investment firms to fund building retrofits. Green Potential finds and fights for the best options for our clients to ensure that their building retrofits are provided for at the best possible cost.
What is amortization of financing?
Amortization of financing provides a payment schedule for the building management to pass onto ownership. For many buildings, a payment structure based on share / percentage size (how much you own of your building / common area) is the way to move forward. For some, the building may need to make different payment schedules for owners in lower income classes. This will help prevent arrears (payment owed by owners) for those units and allow the building to still collect enough for their payments to the financier. This is very important for buildings who have different income classes. Management companies may come and go, but we will stick around to make sure these payments are done properly.
How much do you charge for amortization?
Amortization costs depend on the inputs and outputs provided by your management company. These costs will range anywhere from $5-$10 (one time) to set up and $1-$3 (per month) after setup per apartment in the building. Amortization is only needed for buildings that have owners that are within different income classes. If the building board doesn't want to push out current ownership, they can create various payment schedules for owners in different income brackets. Most management companies can do this but will charge the property owners significantly more than Green Potential. We charge less because we have created an automated process that is a cost efficient alternative. We will work directly with your management company to set up a payment plan for all the owners.
Have a question you don't see listed here? Submit our contact form and we'll get back to you.